Hey everyone! Samantha here and today's Tuesday Tips and Tricks segment is all about Copic marker storage. First, I am going to show you my storage methods and then I have found links to some great Copic storage ideas that I have found.

So to get started, I made a video showing you my permanent Copic storage. This is how I store my markers UNLESS I plan on taking them somewhere.

It just so happens that iCopic.com sells two storage racks that look almost identical to my storage container shown below.

The only difference I can tell is that this one has smaller (but many more) cubbies.
Click here to see the product page for this storage rack!
And also this one, which might be the exact same one that I have:
Click here to see the details on this storage rack!
When I went searching for Copic storage ideas for you guys, I came across the
Artic Stamp Queen
, who happens to store her Copics in the little Ikea bins I showed you in the video (hers are green, while the ones I showed you in the video are pink).
Now, if I plan on taking my markers with me somewhere, I pack 72 of them into my handy dandy
marker wallet
:
There are many sized wallets and iCopic just recently got them all back in stock.
Click here to see all Copic storage available now!
These wallets are AWESOME for traveling because they fold up nice and small and then when you want to color, they fan out so you can see all your colors. I seriously take this thing with me anywhere, the doctor's office, on vacation, in the car for long traveling. If you are wondering how it is possible to color on the move, then watch one of my older videos about how I streamline my coloring process,
click here!
Now, I want to show you some of my favorite Copic storage ideas I have found on the internet!
Karen
has a wonderful tutorial on how to create your own storage containers out of foam board:
On the
StampTV discussion board
, there is a great post about all the different ways that people store their Copics (including some photos!).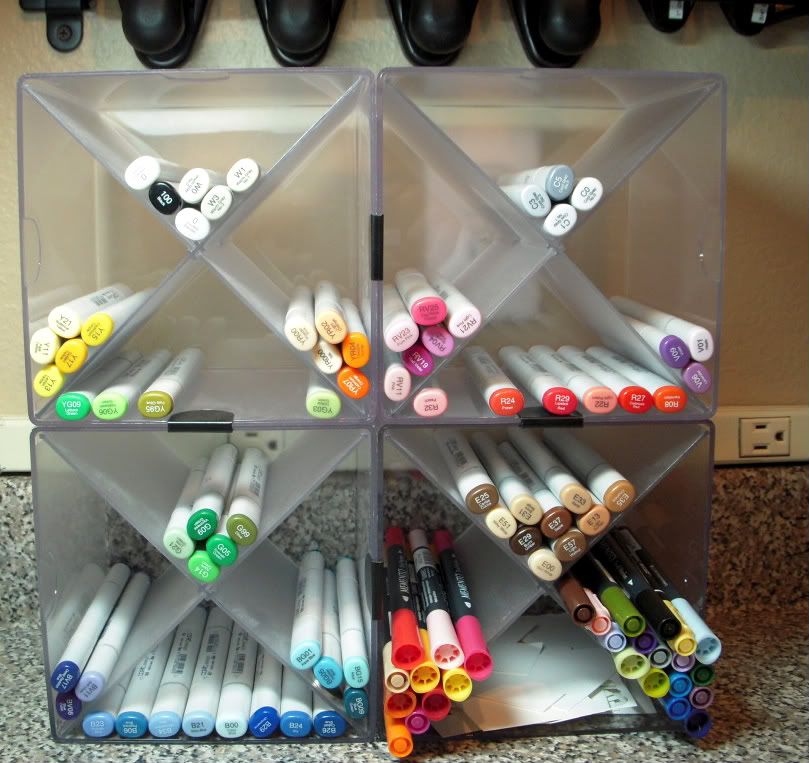 And you could always find a cute little cubbie or bin to store your markers in like the people below did.
Like this one I found on the
Limetart Blog
:
This one I found on the
Papercraft Memories Blog
:
And finally this one from our very own designer
Alyssa
:
Do you have a great Copic storage idea? Show us in the comments section below! We would love to see your method.